Fiat Uno Manual
Manifolds and exhaust system
1 The intake manifold on 903 cc engines is integral with the cylinder head.
2 On the other engines, the intake and exhaust manifolds are mounted on the same side of the cylinder head.
3 A hot air collector plate is fitted over the exhaust manifold from where the air cleaner draws air when in the winter setting.
4 When fitting a manifold, thoroughly clean the cylinder head and manifold mating surfaces, use a new gasket and tighten nuts to the specified torque (photos).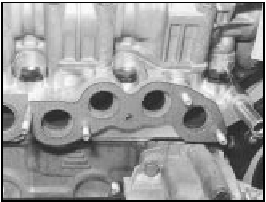 19.4A Manifold gasket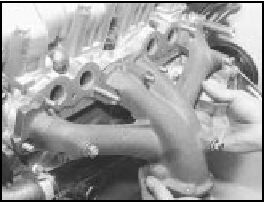 19.4B Fitting exhaust manifold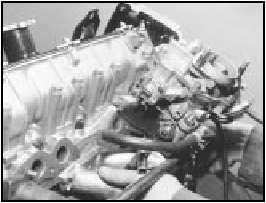 19.4C Fitting intake manifold complete with carburettor
5 The exhaust system on 903 cc models is of single downpipe, single silencer two section type.
6 On 1116 cc and 1301 cc models, the exhaust system is of dual downpipe, two silencer, two section type.
7 The exhaust system is flexibly mounted (photo).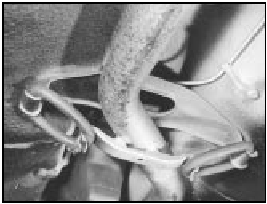 19.7A Exhaust pipe support rings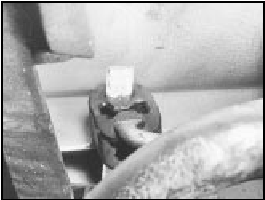 19.7B Exhaust tailpipe mounting
8 Do not attempt to separate the sections of the exhaust system, while in position in the car. Unbolt the pipe from the manifold and, using a screwdriver, prise off the flexible suspension rings. Provided the car is then raised on jacks, ramps or placed over an inspection pit, the complete exhaust system can be withdrawn from under the car.
9 If only one section is to be renewed, it is far easier to separate once the complete system is out of the car.
10 When refitting, grease the pipe sockets and fit the clamps loosely until the suspension rings are connected and the downpipe bolted up (using a new copper gasket). Check the attitude of the sections with regard to each other and the adjacent parts of the underbody. Fully tighten the clamps and downpipe flange nuts, remembering to bend up the lockplate tabs on 1116 cc and 1301 cc models (photo).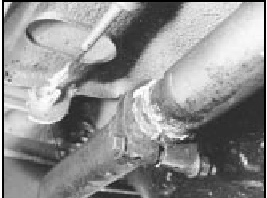 19.10 Exhaust pipe socket clamp
11 On the larger engined models, it may be necessary to raise the vehicle at the rear and support it on axle stands so that the rear suspension hangs down and is fully extended.
This will allow sufficient clearance between the axle and the body for the exhaust system to be withdrawn.










© 2022 www.fiat-uno.ru. All Rights Reserved.