Fiat Uno Manual
Accelerator cable - adjustment and renewal

Fuel system

/ Accelerator cable - adjustment and renewal
1 The socket type cable end fitting is detached from the carburettor throttle lever simply by prising it off the ball stud.
2 Adjustment can be carried out by releasing the locknut and turning the end fitting. With the accelerator pedal fully depressed, check that full throttle can be obtained at the carburettor.
3 To renew the cable, prise off the end fitting from the carburettor throttle lever.
4 Slip the cable sleeve from its retaining bracket (photo).

17.4 Throttle cable sleeve and bracket
5 Working inside the car under the facia panel, slip the cable from the fork at the top of the accelerator pedal arm (photo).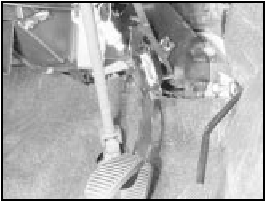 17.5 Accelerator pedal
6 Withdraw the cable through the engine compartment bulkhead.
7 Fit the new cable by reversing the removal operations, adjust as described in paragraph 2.










© 2023 www.fiat-uno.ru. All Rights Reserved.