Fiat Uno Manual
Fuel level transmitter - removal and refitting

Fuel system

/ Fuel level transmitter - removal and refitting
1 The transmitter is accessible after having removed the small cover panel from the floor of the car under the rear seat (tipped forward) with the floor covering peeled back (photo).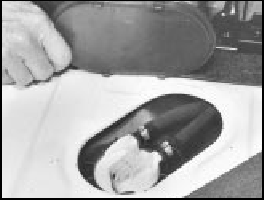 4.1 Fuel tank transmitter
2 Disconnect the fuel flow and return hoses and the electrical leads from the transmitter.
3 Unscrew the securing ring and lift the transmitter from the tank.
4 Refitting is a reversal of removal. Use a new rubber sealing ring.










© 2023 www.fiat-uno.ru. All Rights Reserved.