Fiat Uno Manual
Cylinder head - dismantling and decarbonising (1116 cc and 1301 cc engines)

Engine

/ Cylinder head - dismantling and decarbonising (1116 cc and 1301 cc engines)
1 The operations are similar to those described for the ohv engine in Section 17 in respect of decarbonising and valve grinding.
2 To remove a valve, use a valve spring compressor to compress the first valve and then extract the split collets (photo).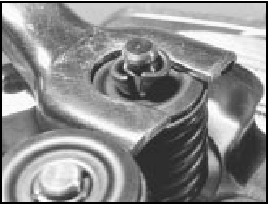 39.2 Valve spring compressor and split collets
3 Release the valve spring compressor.
4 Withdraw the valve spring cap and the double valve springs (photos).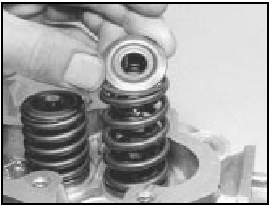 39.4A Valve spring cap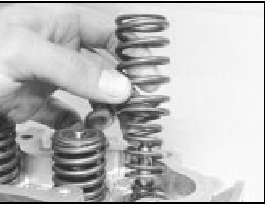 39.4B Double valve springs
5 Remove the valve (photo).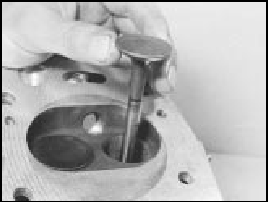 39.5 Removing a valve
6 Remove the spring seat (photo).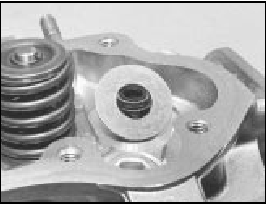 39.6 Valve spring seat
7 Discard the valve stem oil seal and fit a new one (photo).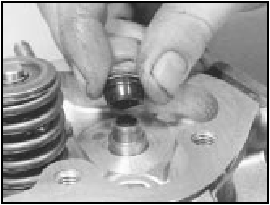 39.7 Valve stem oil seal
8 Remove the remaining valves in a similar way and keep the components in their originally fitted sequence.
9 Reassembly is a reversal of removal. Refit the components to their original positions, but renew the valve springs if their free length is less than that of a new spring or if the springs have been in operation for more than 80 000 km (50 000 miles).
10 The original valve clearance adjusting shims will no longer provide the correct clearances if the valves have been ground in or the seats recut. Only where dismantling of a valve was carried out to renew a spring is there any purpose in returning the shims to their original locations. Try to obtain the loan of eight thin shims from your dealer and insert them into the tappets (cam followers) before assembling the cam followers to the carrier, where they should be retained with thick grease (photo).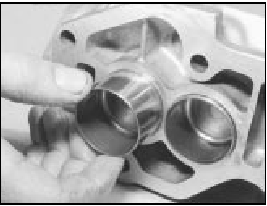 39.10 Cam followers fitted to camshaft carrier
11 Fit the camshaft carrier, complete with cam followers and shims to the cylinder head.
12 Adjust the valve clearances as described in Section 26.










© 2023 www.fiat-uno.ru. All Rights Reserved.