Fiat Uno Manual
Oil pump - removal and refitting (1116 cc and 1301 cc engines)

Engine

/ Oil pump - removal and refitting (1116 cc and 1301 cc engines)
1 Remove the sump pan as described in the preceding Section.
2 Unbolt the oil pump and withdraw it complete with driveshaft.
3 Use a new gasket when refitting the pump and prime the pump by pouring engine oil through the pick-up filter screen (photo).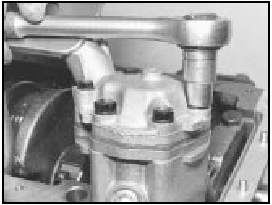 31.3 Bolting on the oil pump










© 2023 www.fiat-uno.ru. All Rights Reserved.