Fiat Uno Manual
Sump pan - removal and refitting (1116 cc and 1301 cc engines)

Engine

/ Sump pan - removal and refitting (1116 cc and 1301 cc engines)
1 Position the car over an inspection pit or raise the front wheels on ramps.
2 Disconnect the battery.
3 Drain the engine oil. Unbolt and remove the flywheel housing lower cover plate.
4 Unbolt the sump pan and remove it together with its gasket.
5 Refitting is a reversal of removal. Always use a new gasket locating it on clean mating flanges and tighten the fixing bolts evenly and progressively (photo).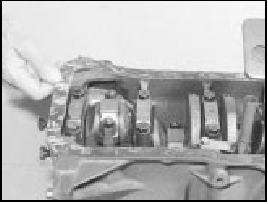 30.5 Locating the sump pan gasket
6 Fill the engine with oil and reconnect the battery.










© 2023 www.fiat-uno.ru. All Rights Reserved.