Fiat Uno Manual
Front suspension strut - removal and refitting

Suspension

/ Front suspension strut - removal and refitting
1 Raise the front of the car, support it securely and remove the roadwheel.
2 Release the brake hydraulic hose from the strut by unscrewing the retaining clip bolt.
3 Unscrew and remove the two bolts from the clamp at the bottom of the strut, push the hub carrier down out of the clamp (photo).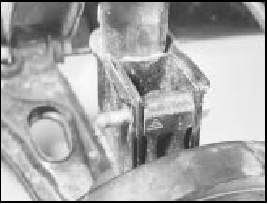 3.3 Strut clamp bolt
4 Open the bonnet. Unscrew and remove the domed reinforcement cover. Then remove the strut top mounting nuts from the turret. Do not attempt to unscrew the centre spindle nut (photos).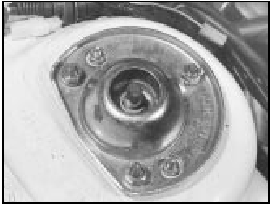 3.4A Strut reinforcement plate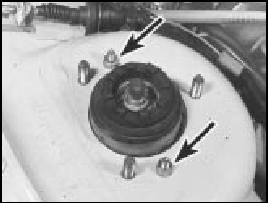 3.4B Strut upper mounting nuts
5 Withdraw the strut downwards and out from under the wing (photo).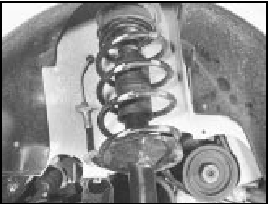 3.5 Withdrawing a front strut
6 Coil spring clamps must now be fitted.
These are available from most motor stores or can be hired (photo).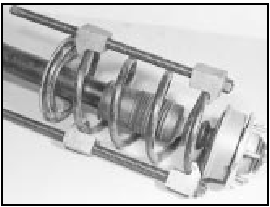 3.6 Spring clamps in position
7 Once the spring has been compressed to release its top coil from the strut upper mounting, hold the flats on the strut spindle and unscrew the spindle nut.
8 Take off the upper mounting components and the clamped coil spring. The clamps need not be removed if the spring is to be fitted to a new strut.
9 Commence reassembly by fitting the coil spring onto the strut. Make sure that the smaller coil is at the top and the lower coil is up against its end stop in the spring seat.
10 Check that the strut boot is in position.
11 Fit the upper mounting components and screw on the spindle nut.
12 Gently release the spring clamps and remove them.
13 Refit the strut to the car by reversing the removal operations.
Note: On cars built before 1985, when assembling the strut top mounting, apply a bead of sealant as shown in Figs. 11.4 and 11.5 to prevent the entry of water into the strut bearing. Later models are fitted with a rubber seal.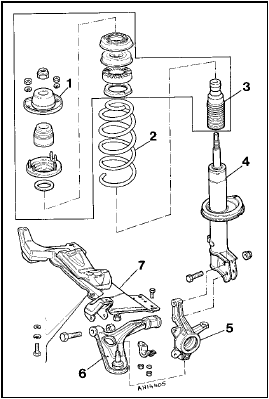 Fig. 11.3 Front strut components (Sec 3)
1 Top mounting cover 2 Coil spring
3 Boot
4 Strut
5 Hub carrier
6 Track control arm
7 Crossmember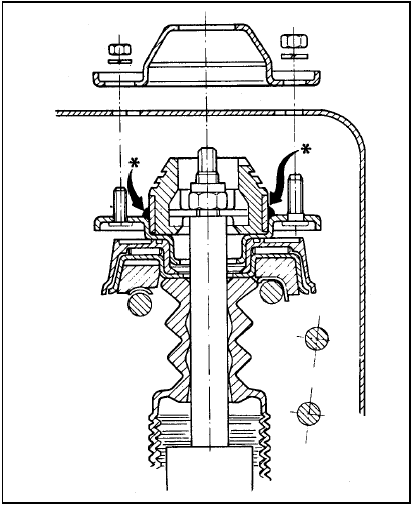 Fig. 11.4 Waterproof bead applied to strut with top cover removed (Sec 3)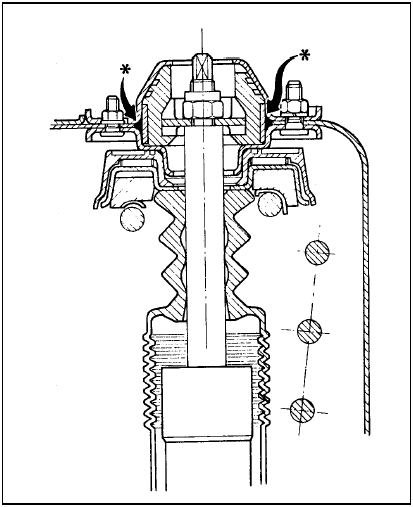 Fig. 11.5 Waterproof bead applied to strut with top cover in position (Sec 3)










© 2023 www.fiat-uno.ru. All Rights Reserved.