Fiat Uno Manual
1 The washer system for the windscreen and the tailgate operates from a bag type fluid reservoir within the engine compartment (photo).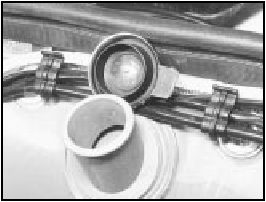 28.1 Washer fluid reservoir
2 The reservoir bag is fitted with two pumps, one for each system (photo).

28.2 Washer pumps
3 Use screen cleaning fluid mixed in the recommended proportion in the washer fluid reservoir and in very cold weather add a small quantity of methylated spirit.
4 To clear a blocked washer jet nozzle or to adjust the wash jet glass-striking pattern, insert a pin part way into the jet nozzle.










© 2023 www.fiat-uno.ru. All Rights Reserved.