Fiat Uno Manual
Speedometer drive cable - renewal
1 Remove the instrument panel hood cover as described in Section 21.
2 Disconnect the speedometer cable from the speedometer by squeezing the plastic retaining ring (photo).

23.2 Speedometer cable connector at head
3 Working at the transmission, disconnect the speedometer cable by unscrewing the knurled retaining ring (photo).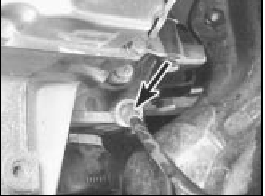 23.3 Speedometer cable connector at transmission
4 Withdraw the cable through the bulkhead grommet.
5 Refit the new cable assembly by reversing the removal operations.










© 2023 www.fiat-uno.ru. All Rights Reserved.