Fiat Uno Manual
Exterior lamps - bulb renewal
Front parking lamp
1 The bulbholder is located in the headlamp reflector.
2 Open the bonnet, push and twist the bulbholder from its location (photo).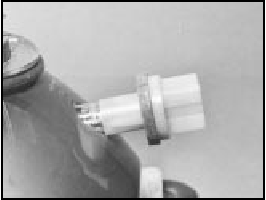 19.2 Front parking lamp bulb
3 The wedge base type bulb is simply pulled from its holder.
Front direction indicator lamp 4 Extract the screws and remove the lens (photo).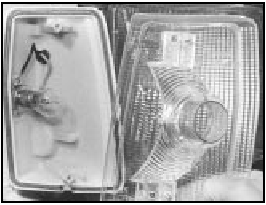 19.4 Front direction indicator lamp lens and bulb
5 Depress and twist the bayonet fitting type bulb from its holder.
Side repeater lamp
6 This bulb may be renewed in one of two ways. Either partially remove the underwing protective shield and reach up under the front wing and pull the holder out of the lamp body or depress the lamp retaining tab and withdraw the lamp from outside the wing. The tab is very brittle (photo).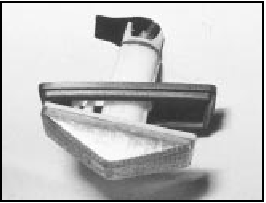 19.6 Side repeater lamp
7 Remove the bulb from the holder.
Rear lamp cluster
8 Open the tailgate.
9 Gently prise up the clips on the top surface of the lens. Pull the upper part of the lens outwards and release it from the lower fixings (photo).

19.9 Rear lamp lens upper clip
10 The individual lamp bulbs may be renewed, all of them being of bayonet fitting type (photo).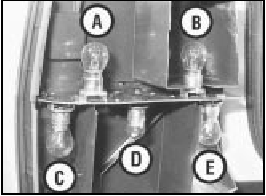 19.10 Rear lamp bulbs
A Direction indicator B Reversing
C Stop
D Tail
E Fog
Rear number plate lamp 11 Insert a screwdriver blade in the lens slot and prise it from the bulb holder. Withdraw the bulb.
12 If preferred, the complete lamp may be removed from the bumper by reaching up under the bumper and squeezing the lamp retaining tabs (photo).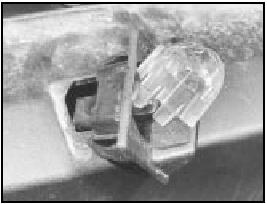 19.12 Rear number plate lamp withdrawn










© 2023 www.fiat-uno.ru. All Rights Reserved.