Fiat Uno Manual
Headlamp - removal and refitting
1 Open the bonnet and extract the two headlamp mounting screws from the top rail (photo).

18.1 Headlamp upper fixing screw
2 Pull the headlamp unit forward off its ballstud and then disconnect the wiring plug (photo).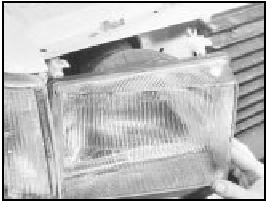 18.2 Withdrawing headlamp
3 Refitting is a reversal of removal.










© 2023 www.fiat-uno.ru. All Rights Reserved.