Fiat Uno Manual
Steering column combination switch
1 Disconnect the battery negative lead.
2 Remove the steering column shrouds.
3 The switch can be removed without having to take off the steering wheel, but for clarity, the photographs show the wheel removed.
4 Unscrew the switch clamp nuts, disconnect the wiring plug and remove the switch from the steering column (photo).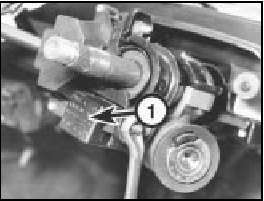 11.4 Unscrewing steering column switch clamp nut
1 Direction indicator flasher unit (relay)
5 Refitting is a reversal of removal, but make sure that the activating projections on the steering wheel hub engage correctly with the switches.










© 2023 www.fiat-uno.ru. All Rights Reserved.