Fiat Uno Manual
Handbrake - adjustment
Adjustment is normally automatic, by the movement of the rear brake shoes on their automatic adjusters.
However, owing to cable stretch, supplementary adjustment is occasionally required at the control lever adjuster nut. The need for this adjustment is usually indicated by excessive movement of the control lever when fully applied.
1 The rear brakes should be fully applied when the handbrake control lever has been pulled over four or five notches.
2 If adjustment is required, release the locknut and turn the adjuster nut on the handbrake primary rod (photo).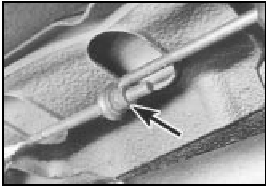 16.2 Handbrake adjuster nuts
3 Raise the rear roadwheels and check that they turn freely when the handbrake lever is fully released.










© 2022 www.fiat-uno.ru. All Rights Reserved.